BEST PRICES ON SCC COOLERS 20% OFF!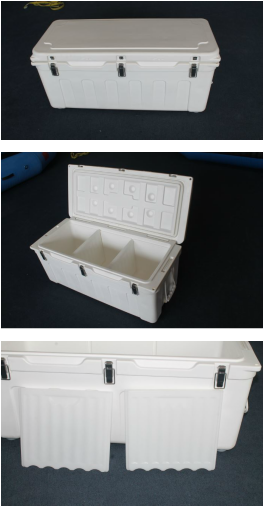 SCC coolers are Roto-Molded and insulated with a full 2 inches of Polyurethane
insulation. That closed cell structure and high cross-linking density give
them good heat stability, compressive strength, and excellent insulation
properties.
-Seamless Double-Wall Construction, UV resistant exterior
-Low profile Stainless Steel marine grade latches and Stainless Screws
-2 Pad lock holes secure the lid
-Integrated self-stopping rear hinge for maximum strength won't hyper extend
-Ring seal lock in lid keeps the cold in, Stainless Steel hinge prevents rust
-Food grade safe material helps resist stains and is easy to clean
-Dry Ice safe interior allows you to keep your frozen goods frozen and
extends your cold retention time
-Plastic dividers allow you to organize your ice and food
-Easy clean interior surfaces
-Inside cooler floor is slanted to allow water to self drain
-One twist drain plug
-Rubber feet on the bottom help keep your cooler in place
-The feet also elevate the cooler off hot areas to reduce conductive cooling
loss.
-2 Rope handles on each end with comfortable grips for easy transporting.
Excellent cooling retention. This is able to keep your food cold for extended periods of time. Up to 6 and 8 days and longer have been reported. It is dependent on initial cooler shell temperature, environment, the quality and type of the ice used, amount of dry ice usage, cooler packing techniques, initial food temperatures, and cooler management are
all just a part of how your cooler will perform during actual use.
---
65 QUART SCC ROTO MOLDED COOLER Includes 1 Divider REGULAR PRICE $320.00 -------- SAVE $64.00
Interior dimensions: L*W*H 24" x 12.4" x 12.7"
Exterior dimensions: L*W*H 29.5" x 16.3 "x 16.8"
Empty weight 31.9 LBS

84 QUART SCC ROTO MOLDED COOLER Includes 1 Divider REGULAR PRICE $375.00 -------- SAVE $75.00
Interior dimensions: L*W*H 27.9" x 13.7" x 12.8"
Exterior dimensions: L*W*H 33.9" x 17.5 "x 17.5"
Empty weight: 35.7 LBS
127 QUART SCC ROTO MOLDED COOLER Includes 2 Dividers REGULAR PRICE $450.00 -------- SAVE $90.00
Interior dimensions: L*W*H 35.8" x 14.3" x 14.3"
Exterior dimensions: L*W*H 41.3" x 18.3 "x 18.3"
Empty weight: 43 LBS
190 QUART SCC ROTO MOLDED COOLER Includes 2 Dividers REGULAR PRICE $600.00 -------- SAVE $120.00
Interior dimensions: L*W*H 38.5" x 15.9" x 17.9"
Exterior dimensions: L*W*H 43.7" x 22.0"x 19.8"
Empty weight: 55.1 LBS